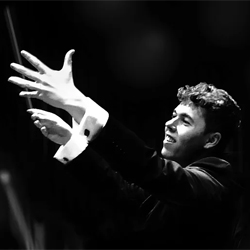 ウェブスターは非常に将来が楽しみな音楽家だと、共演したオーケストラから高い評価を得ている。2018年にパヌラ国際指揮者コンクールで最高位を獲得、またオーケストラ賞も受賞した。ロサンゼルスのコルバーン・スクールにおいて初のサロネン・フェローに選ばれ、同校でエサ=ペッカ・サロネンから個人指導を受けている。
コルバーン・スクールのオーケストラを指揮するのみならず、サロネンのアシスタントとしても活躍し、世界中で出演契約が決まっていっている。2020年2月にはフィルハーモニア管へのデビューが確定。ベートーヴェンの英雄とブラームスの交響曲第2番などを含む2公演を指揮する。ロサンゼルスのコルバーン・スクールにおっけるジッパー・オーケストラとは2019年10月に教育プログラムで共演するほか、バーミンガム王立音楽院では2020年6月に同音楽院のシンフォニー・オーケストラを指揮する。
1999年うまれ。英国のコーンウォールで育ち、6歳からピアノをエレナ・ニードハムに師事する。9歳にしてコーンウォールのラジオ局に出演するようになり、クラシック音楽のプレゼンター、プロデュースに携わるようになる。その3年後にはコーンウォールのユースオーケストラを指揮して指揮者デビューを果たす。曲はチャイコフスキーの《ロミオとジュリエット》であった。両者はバーミンガムのシンフォニーホール、そしてロイヤル・アルバート・ホールで演奏する機会を得た。
室内楽奏者としても活発に活動しており、ピアニストとしても数多くの若い音楽家達と共演してきた。バーミンガム王立音楽院ではピアノをアラスデア・ビートソンに、ヴィオラをティム・ボルトンに、指揮をパトリック・ベイリーに、室内楽をプロシア・コーヴの国際音楽家セミナーにおいて、フェレンツ・ラドシュおよびリタ・ワグナーにならった。
https://imgartists.com/roster/angus-webster/
https://www.anguswebster.com/
次回来日:2020年10月
■お問合せ、出演依頼は山根悟郎 yamane@mcsya.org まで。
Angus Webster, conductor & pianist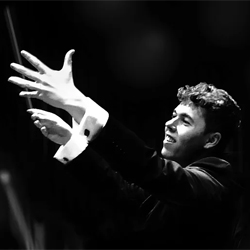 raised by orchestras for his inspiring musicianship, British conductor and pianist Angus Webster is one of the most promising young musicians of his generation. Since winning joint top prize and the orchestra prize at the Panula International Conducting Competition in 2018, Angus was selected to become one of the first Salonen Fellows at the Colburn School in Los Angeles where he currently studies under the personal mentorship of world-renowned conductor Esa-Pekka Salonen.
In addition to conducting the Colburn School's flagship orchestras and assisting Salonen with his engagements around the world, Angus will make his début with the Philharmonia Orchestra in February 2020 conducting two concerts including Beethoven's Symphony No. 3 'Eroica' and Brahms' Symphony No. 2. Other forthcoming highlights include presenting and conducting a series of educational concerts in Los Angeles with Colburn School's Zipper Orchestra in October 2019, and returning to the Royal Birmingham Conservatoire to conduct its symphony orchestra in June 2020.
Read Less
Born in 1999, Angus spent most of his childhood in Cornwall, England and began his musical education aged six with piano lessons from Elena Needham. Aged nine, he started producing and presenting a classical music programme live on local radio in Cornwall, and three years later Angus made his conducting début with Cornwall Youth Orchestra in Tchaikovsky's Romeo & Juliet. He was later appointed principal conductor, and together they went on to receive national acclaim with invitations to perform at Birmingham Symphony Hall and the Royal Albert Hall in London.
Angus is also a passionate chamber musician and enjoys collaborating as a pianist with many outstanding young musicians from around the world. He has studied piano with Alasdair Beatson at the Royal Birmingham Conservatoire, viola with Tim Boulton, conducting with Patrick Bailey, and chamber music with Ferenc Rados and Rita Wagner at the International Musicians Seminar, Prussia Cove.
https://imgartists.com/roster/angus-webster/
https://www.anguswebster.com/
Representation: Japan, Korea & rest of Far East
Inquiries please contact Goro Yamane
yamane@mcsya.org