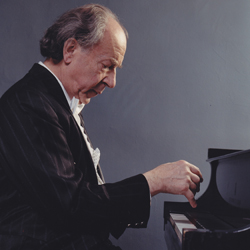 パウル・バドゥラ=スコダ(1927-2019)。ウィーン生まれ。1945年ウィーン音楽学校に入学し、2年後オーストリア音楽コンクール優勝。その後スイス・ルツェルンでエドウィン・フィッシャーのマスタークラスを受講するが、これがバドゥラ=スコダの音楽家としての基盤となる。やがてフィッシャーのアシスタントとなり、フィッシャーの死後もその伝統を引き継いでいった。
 1949年、ヴィルヘルム・フルトヴェングラーとヘルベルト・フォン・カラヤンが、バドゥラ=スコダの並外れた才能に注目し、彼をコンサートに招聘するや、まさに一夜にして世界的な大ピアニストとなった。ザルツブルク音楽祭には衝撃的なデビューを果たし、また1953年のニューヨーク・デビュー・コンサートはまたたく間に全席完売となった。彼のレコードは何年もの間、ピアニストとして発売枚数1位を保持した。
 以来、主要な各音楽祭に定期的に出演。ヴィルヘルム・フルトヴェングラー、ヨーゼフ・クリップス、カール・ベーム、ハンス・クナッパーツブッシュ、ヘルマン・シェルヒェン、アルトゥール・ロジンスキー、ロリン・マゼール、ジョージ・セル、サー・チャールズ・マッケラス、サー・ゲオルグ・ショルティ、ヴァイオリニストのダヴィド・オイストラフなどと共演した。
 膨大な量の自筆譜や初版のマイクロフィルムを所持しているほか、歴史的楽器のコレクターとしても名高い。1976年、オーストリア政府より「オーストリア科学・芸術功労賞」が授与された。また1978年にはバックハウス以降初となる「ベーゼンドルファー・リング」が贈られた。
Paul Badura-Skoda, piano (1927-2019)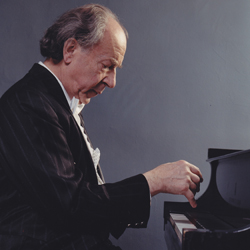 His teacher was Edwin Fischer; his discoverer Wilhelm Furtwängler. His composer friend, Frank Martin, composed a piano concerto for him and he shared a long professional friendship with the great Russian violinist David Oistrach.
Paul Badura-Skoda has long been a symbol of the cultivation of Viennese classical music. The holder of the prestigious Bösendorfer-Ring, he is a celebrated guest at major international music festivals. Earlier in his life Badura-Skoda collaborated with such renowned conductors as Hans Knappertsbusch, Herbert von Karajan, Georges Szell and Karl Böhm. He has also worked with Lorin Maazel, Zubin Mehta, Sir Charles Mackerras, Sir Georg Solti and John Eliot Gardiner, to name but a few. His recordings number well beyond the two hundred mark (LP's and CD's) including the complete cycles of the piano sonatas of Schubert, Mozart and Beethoven. He recorded these cycles on original instruments from his own collection.
Badura-Skoda performs with equal authority on both period and modern instruments. He was, truly, a pioneer in proposing the use of period pianos in performance, which has, today, become very popular in concert halls around the world. His profound knowledge of instruments from Bach's and Mozart's style up to the present has given him the capacity to extract from the modern instruments a quality of sound which never fails to surprise audiences and critics alike.
Badura-Skoda is not only known as a Mozart specialist; a Viennese by birth he has a genuine understanding of Schubert and never ceases to be in love with his music. He is also a great admirer of Johann Sebastian Bach and the author of a book entitled Interpreting Bach on the Keyboard (Oxford University Press). Badura- Skoda is also active as a conductor and composer.